Facilities

We have well equipped Anatomy, Physiology, Biochemistry, Microbiology and Pathology laboratories for training students in routine practicals. Basic amenities for providing practical exposure in all disciplines are available.
A well structured computer laboratory with technical competency required for the students to enhance their career oriented skills is provided.
Anatomy & Physiology Lab
Well-equipped with relevant apparatus, this lab enables students to pursue practical studies relevant to curriculum.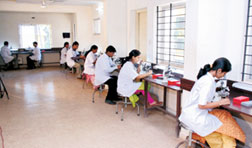 Computer Lab
Students have the advantage of updating themselves regarding their course of study in the computer lab at the college.